By Lawrence Leask, Excalibur Energy
Recent changes to legislation means that operators of HVAC chillers and refrigeration equipment should review their equipment and the availability of replacement condenser fans.
In the past few months, we have had several enquiries to supply replacement AC axial fans for air cooled chillers from end users unable to obtain direct replacement fans, or where the cost has become prohibitive. Their predicament is not unusual and the situation is likely to get worse, with many fans no longer being manufactured, or only manufactured in short production runs.
Since 2017, all new condenser fan motors used on new chillers and condensers are required to meet the International Electrotechnical Commission (IEC) motor efficiency regulations and the Energy-related Products Directive 2015 (ErP). This has pushed manufacturers to look at the overall efficiency of fans and account for the entire fan, including the control electronics, motor, bell mouth and impeller and to define minimum efficiency requirements for the fans.
New Equipment manufacturers cannot use products that do not meet the regulations on new equipment but can continue to sell motors or fans that do not meet the regulations as spares to existing equipment.
Fan manufacturers and OEM's have benefited from the spares market at the expense of the end user by selling replacement parts at ridiculously high margins. In addition to these high costs imposed on the end user, the end user should avoid trying to repair motors, as rewinds further reduce efficiency.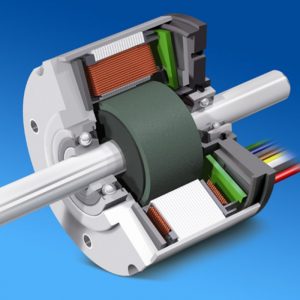 For many clients, we have removed all the existing AC fans and replaced them with the latest design IE4 Super Premium EC fans which have built in speed controls making them perfect for HVAC applications.
With speed control built into each motor, it allows all the fans on each circuit to operate together, modulating the speed to maintain accurate discharge pressure dependent on the cooling demand and ambient air temperature.
When you consider the CIBSE guidelines HVAC equipment life cycle is 15-25 years and that AC fans typically last 5-8 years it makes the retrofitting of EC fans a viable option to re-life an asset whilst improving efficiency and making use of the latest technology without the disruption and total cost of replacement.
Postscript: condenser cleaning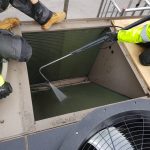 Dirty condensers can also have a drastic effect on compressor efficiency. To clean an air-cooled condenser correctly the fans should be removed and the coils cleaned in the opposite direction to airflow. This is rarely done due to cost and disruption, but incorrect cleaning in the direction of airflow can bury debris deeper into the coil, further reducing airflow and efficiency.
The correct deep cleaning of condenser coils can economically be undertaken at the same time as fan replacement as access can be gained during fan removal.
–o–
Excalibur Energy is willing to provide fully costed proposals with an energy analysis showing how performance can be improved for refrigeration energy-saving projects in connection with ESOS assessments which includes air-cooled chillers and condensers, dry air coolers and evaporative condensers. Contact: 
Unit 115 Rivermead Business Park, Swindon SN5 7EX. 
Tel: 01793 934058 or email