We've had some very enthusiastic feedback from delegates at MAVCON17, the third National Measurement and Verification Conference,  which we held on 16 November.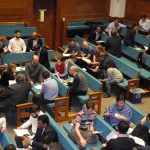 Adam Graveley of Value Retail for example described it as "a very informative and well-organised conference that provided a great deal of practical insight" .
The event consistently attracts around 70 M&V practitioners who value not only the networking opportunity but also what they call the 'geek element' (expert technical papers with extended question-and-answer sessions), group exercises, and a no-holds-barred expert panel discussion for which this year's theme was "when M&V goes wrong".
Our keynote speaker was Denis Tanguay, Executive Director of the Efficiency Valuation Organisation, the body responsible for the International Performance Measurement and Verification Protocol (IPMVP). We are planning to run MAVCON again in early November 2018 and are open for offers of technical papers and ideas for group exercises.
We are grateful to our other speakers Dave Worthington, Hilary Wood, Colin Grenville, Steve Barker and  Emma Hutchinson and our expert panelists Sandeep Nair, Ellen Salazar and Quinten Babcock. You can read more about them at the conference web site www.MAVCON.uk
We should also acknowledge the venue, the Priory Rooms, for the quality of their service including excellent catering which also drew much favourable comment.